Termite Pest Control Treatment
When it comes to Termite Pest Control Treatment, you only realise the they are there when some damage is observed. Though tiny these creatures, they cause millions of homeowners a huge hole in their pockets. The huge hole in homeowners' pockets is usually for repairs and at times, reconstruction of the property itself. The first thing homeowners sholud understand is that termites unlike most common household pests are not as straightforward to eliminate.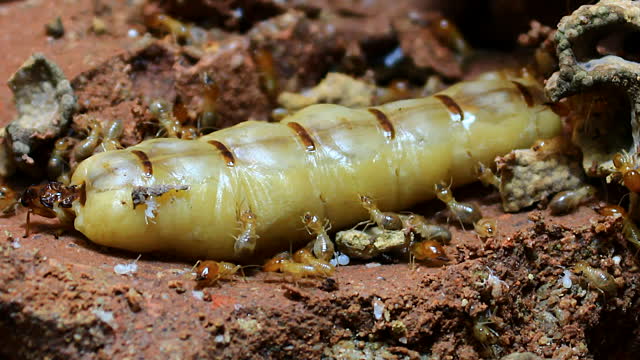 A termite nest is almost always never near where an infestation is detected. Subterranean termites as the name suggests build their nest underground. An established nest can send its forces as far as 50 metres to forage for food. This is why it's so important to get treatment for termites as soon as you find signs of them because they can spread throughout a property or even neighbourhood in no time. Maximum Pest has encountered subterranean termite infestations in high rise apartment buildings on the 38th floors. For this particular infestation, they found their way into our client's home via a structural beam and through a concealed electrical conduit.
Termite will usually have mulitple foraging sites either in the same property or mulitple premises concurrently. They never only rely on one food source.
Mismanagement of Termites will only provide a temporary result.
Residual Spraying – Aerosol (Household Pesticides)

When termites are sprayed upon – Only those that come into contact with the spray get killed. Naturally, Subterranean termites react by retreating, re-grouping and reinfesting. They reinfest either at the same location after some time, infest another area of the property and or infest a neighbouring property.
Though they may infest another property; they most certainly will revisit the initial infestation point in due time.
When termites suffer casualties, the nest will very quickly recouperate the loses by producing more eggs to make for the losses.
If the suffered casualties are too large, more Queen Termites will be evolved to reach the required number more swiftly.

Dusting / Powder

Dusting, in our trials has always only resulted in a temporary solutions. In our deduction, we assume that by the time enough of these termites get back to the nest assuming the nest is not in close proximity, they are affected by the powder (if it is too potent).
Alternativly, termites are known to create a secondary nest where they may conduct grooming. During grooming the dust coated on the termites will be ingested by others, causing termites to die. When they realise that they are suffering casualties from this food source they refrain from the area temporarily. Focusing on other areas before resurfacing in 3 to six months.
Each time causalities are obtained, termite nests will regenerate termites to firstly make up for the losses and most importantly to be prepared for a future incedent. Provisioning for a larger force in case it happens again, they will be prepared and not be affected by a sudden casualty count.

Baiting (Not All)

Some baits that we have tried do not cause fatality to the termites. They keep feeding on the bait for a long time beofre stopping altogether. In one property that we atempted as the bait was being consumed. Multiple other parts of the property was seeing an infestation. After 6 months, the activty at the bait stopped but continued at other parts of the premises.
Baits that are to toxic will be abandoned by termites – They will react the same as when aerosol pesticide is applied. By retracting and regrouping, regenerating lost force and reemerging at a later stage.
When they resurface, infestation will be much much larger and heavier causing much more damage and cost to the property owner.
We have a tried a number of baiting options and have narrowed down to the ones that work without having a reinfestation occur.
When you are faced with a termite infestation, it is very important to determine the type of termites and know your options before deciding what method of treatment you are going to employ. Maximum Pest Management provide a detailed check on your premises, explain options that are available and provide you with a quotation.
Book A Free Inspection
Tags:
termite control
,
termite treatment
,
termites